PHOTOMOD Software Family
Digital photogrammetry solutions for creation of wide range of output products from the available remote sensing data.

PHOTOMOD software family comprises a wide range of products for photogrammetric processing of the remote sensing data which allow to extract geometrically accurate spatial information from almost any commercially available type of imagery obtained by film or digital cameras, high resolution satellite scanners and synthetic aperture radars.
Due to its flexible modular configuration and networking capabilities the system can be turned into: complete Digital Photogrammetric Workstation (standalone configuration), distributed high productive network environment for large project processing (network configuration), complementary workplaces that can be used along with third-party systems to increase the overall productivity in executing the most time consuming and laborious operations (feature extraction, DTM creation).
PHOTOMOD advantages:
Complete workflow without utilizing any third party products

Wide range of supported sensors

Full line of output products: DTMs, 3D vectors, orthoimages, digital maps

Multiple data exchange formats for compatibility with photogrammetric and GIS products

High level of automation for main photogrammetric operations

Wide choice of stereo viewing options

Support for a variety of input devices

Ease of use

Prompt and effective technical support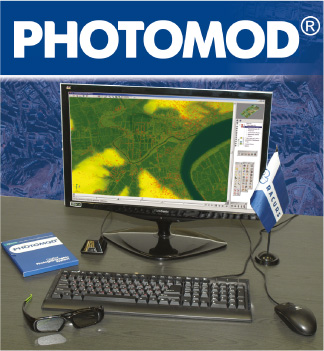 The PHOTOMOD System includes its main operating shell, PHOTOMOD Core, and 11 other modules:
PHOTOMOD AT - aerial triangulation measurements

PHOTOMOD SolverA - block adjustment for central projection images

PHOTOMOD SolverS - block adjustment for satellite scanner images

PHOTOMOD DTM - DTM creation

PHOTOMOD StereoDraw - 3D feature extraction in stereo-mode and 3D modeling

PHOTOMOD Mosaic - orthomosaicking

PHOTOMOD VectOr - digital map creation

PHOTOMOD StereoVectOr - stereo-editing of digital maps in PHOTOMOD VectOr format

PHOTOMOD StereoLink - vectorization within MicroStation system in stereo mode

PHOTOMOD StereoACAD - 3-D vectorization of stereopairs in AutoCAD 2007/2008

PHOTOMOD ScanCorrect - geometric calibration of desktop publishing scanners
PHOTOMOD Project Processing Workflow